Since the beginning of his solo career, often with backing by the band Crazy Horse, his recordings have received widespread critical acclaim. While working the Canadian folk circuit, Young met Stephen Stills and Joni Mitchell, artists who were both instrumental in expanding Young's career. He moved to Los Angeles in 1966, forming the folk-rock group Buffalo Springfield with Canadians Bruce Palmer and Dewy Martin, along with Americans Stephen Stills and Richie Furay. In 1969, he became a member of the hugely popular group Crosby, Stills Nash & Young.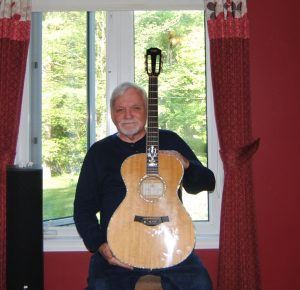 In late 1992, Young released his album « Harvest Moon »  to massive critical acclaim. The music website Classic Rock Review named « Harvest Moon » its album of the year for 1992. The album also earned the 1994 Juno Award for album of the year. The album continued Young's commercial and critical resurgence, eventually outselling his previous records.

The song "Harvest Moon" topped the AARP's list of "16 Songs Everyone Over 50 Should Own." The song is a tribute to Young's wife Pegi.

Richard Séguin – voice, acoustic guitars, mandolin, MIDI programming (bass, organ)

To hear the song, click on the title below.

Copyright Disclaimer under Section 107 of the Copyright Act 1976 : allowance is made for « fair use » for purposes such as criticism, comment, news reporting, teaching, scholarship, education and research.

Neil Young was born on November 12th 1945 in Toronto, Ontario. He started his musical career as a singer-songwriter in Winnipeg, Manitoba, in the early1960s. During his career, Young has received several Grammy and Juno Awards and was inducted twice:in the Rock and Roll Hall of Fame, in 1995 as a solo artist and in 1997 as a member of the band Buffalo Springfield. Young was awarded the Order of Manitoba in 2006 and was made an Officer of the Order of Canada in 2009.