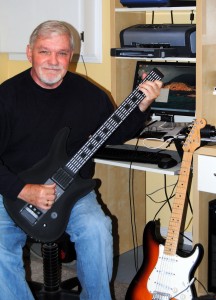 Here's my new MIDI guitar, a Ztar Z6S made by Starr Labs of San Diego. It has small keys, similar to those of a piano, and string "triggers" that send MIDI signals corresponding to the fingering you use. A guitarist can then enjoy the same advantages of a keyboard, which is a much better MIDI controller than conventional MIDI guitars.
To demonstrate the possibilities of this MIDI guitar, here's a new arrangement of an old piece, "Tenderness", recorded in 1976 as a guitar solo on my album "Rumours in the Barnyard." I knew at the time that the piece needed something more than an acoustic guitar but we didn't have the means to do anything else. Click on the arrow below to hear the piece, recorded entirely with my MIDI which, like all MIDI controllers, can play any sound. The main voice is a vibraphone, an instrument I've loved since hearing Lionel Hampton play with Benny Goodman. Also, Gary Burton has always been one of my favourites. The vibraphone is backed by an electric piano and a layer of basses.
[audio:http://eng.richardaseguin.com/wp-content/uploads/2011/11/Tenderness4.mp3|titles=Tenderness]
To download a copy of "Tenderness, right-click on the link below and save.
You can also watch a video of this piece at this address:
http://www.youtube.com/watch?v=yVT8hZ32o6I&feature=g-upl
This music is protected and any commercial use is strictly forbidden.
Production and Publishing: Pentafolio inc.
Copyright: SOCAN